Bali Travel

Facts

- Bali Maps - Area Description -

Airport Transfer

- About Us - FAQ - Terms & Condition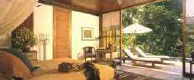 Lombok Hotels & Resorts:

About Lombok:
Less developed than Bali, Lombok also has better beaches, a bigger volcano and a greater variety of landscapes. Tourism is less intrusive than it is on Bali, but the flip-side is that the people of Lombok are less blasť about tourists: in some places you might find the residents quite resentful of the new wave of tourism.
The mainly-Muslim island of Lombok is an island of uncrowded beaches and tranquil countryside, dominated by the spectacular volcano of Gunung Rinjani. Although it's got a Balinesque feel to it, it has not yet fallen victim to the sloganised T-shirt, beer and bikini set.
In some places there's a refreshing indifference to tourists, but that's all set to change as the more independent-minded - as well as those who've 'done Bali' - strike out for fresh fields. This, combined with the recent development of several luxury resorts, means it's no longer a hidden jewel.
Lombok Hotels:

Rating:
Special Rate:
Comments / Description:
Oberoi Lombok
from US $ 190

Famous luxury resort on the north west coast of Lombok

Holiday Inn Lombok
from US $ 47

first class beach resort at the

shoreline of Senggigi Beach
Novotel Coralia Lombok
from US $ 60

Boutique style hotel resort on the south coast of Lombok

Medana Resort
from US $ 50

New villa resort near

Medana Peninsula

north Lombok

Senggigi Beach Hotel
from US$ 50

Great holiday resort in prime location at Senggigi Beach

Bintang Senggigi

Special rates on request

Sheraton Senggig

Special rates on request
These discounted hotel rates are provided by:
www.2bali.de, www.bali-romantic.com, www.baliholiday.de and www.balitropical.com .
The prices are per room/villa

/bungalow

per night, based on 1 or 2 people occupying the room.
All rates quoted above are inbound and inclusive of Tax and Service Charge.
Note: Prices may change without prior notice. Please use the red link for the latest hotel descriptions and

latest

rates

,


use

our

reservation form to get guaranteed price information for your travel dates.
All these discount rates are only applicable if booking was made through

us

, not at the hotel directly

.
Assorted Tourist and Hotel Areas in Bali:
Kuta Legian Seminyak Tuban Ubud Sanur Nusa Dua Lovina Candi Dasa Jimbaran Other Areas
Here are the most recomendable hotels and villas in Bali and around, then Bali is the island of unforgettable holidays !