Bali Travel

Facts

- Bali Maps - Area Description -

Airport Transfer

- About Us - FAQ - Terms & Condition
N
usa Dua and Tanjung Benoa
Hotels & Resorts:
Bali's premier resort location and the internationally acclaimed hotels that are located here attract visitors from all over the world. The exclusive Nusa Dua area built on two small "islands"; each connected to the mainland of the Bukit peninsula by a narrow, sandy strip of land. The area boasts a selection of world-class, self-contained, secluded holiday resorts - all with ample grounds, gardens, recreational choices and dining facilities. A challenging 18-holes golf course and quiet stretches of beach are also on your doorstep at Nusa Dua. While the resort area offers a quiet and relaxed atmosphere, the hubbub of Kuta and Legian are only half an hour away by taxi. Only 5 minutes drive north of Nusa Dua you will find the Village of Benoa shares the same stretch of beach of Nusa Dua, however you will find that prices of the hotels, restaurants, bars and shops are a little less expensive than in the five star resort area of Nusa Dua. Tanjung Benoa is secluded and most visitors to this area will enjoy this beautiful beach and water sport facilities

.




.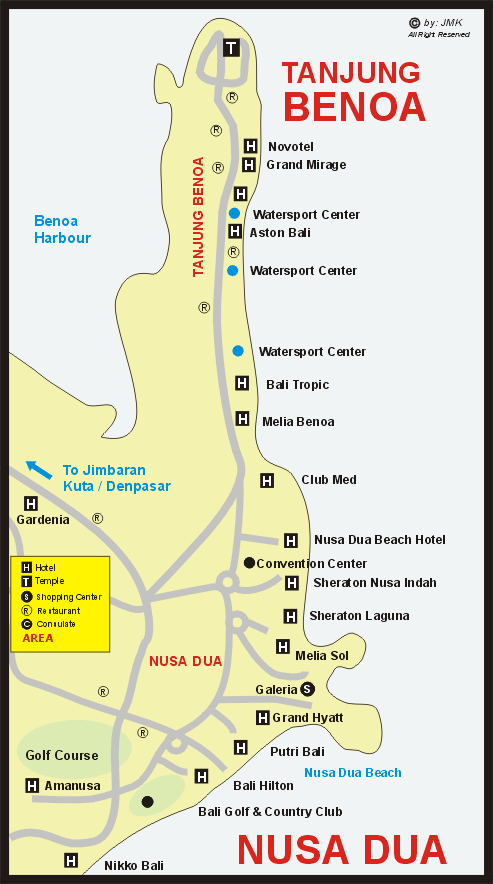 Nusa Dua / Benoa Area:
Rating:
Special Rate:
Comments / Description:

Inna

Putri Bali Hotel
from US$

75

L

ovely resort set on the finest beach in Nusa Dua
Swiss Belhotel Bali Aga
from US $ 45

Deluxe Resort with the unique Balinese spirit. Special Rate!

Nikko Bali
from US$

70 !

Located direct at the cliff, south of Nusa Dua

Aston Bali Resort
from US $

5

5
Quite Resort with the soothing sounds of the Indian Ocean
Laguna Resort & Spa
from US $ 130

Deluxe resort, located in the prime Nusa Dua Beach area.

Grand Hyatt
from US $ 13

5

Super deluxe hotel ideal for families and honeymooners

Melia Bali

Resort

from US$

75 !

Located

at

the prime beach area of Nusa Dua
Grand Mir

r

age
from US $

76

Located on the beach front along the fringes of Nusa Dua
Puri Benoa Suite Bungalow
from US$ 56
Strategically seated in the solitary site of Tanjung Benoa
Villa Bintang
from US$

4

5
It located on the prime golden sandy beach of Nusa Dua
Bali Tropic Resort & Spa
from US $ 65

Beatiful beach resort direct at the Nusa Dua Beach front

Novotel Benoa Bali
from US $

6

5
Modern Hotel, located on sandy Tanjung Benoa Beach

Other hotels like:

Ayoda Resort & Spa (rooms from USD 89 per room / night)
The Westin Resort & Spa (rooms from USD 110 per room / night)
The Luxury Collection, Laguna Resort & Spa (rooms from USD 90 per room / night)
St. Regis Resort & Villas Bali (rooms from USD 280 per room / night)
Bali Cliff Resort (rooms from USD 87 per room / night)
Princess Nusa Dua Resort (rooms from USD 38 per room / night)
Balu Hotel (rooms from USD 40 per room / night)

on request
Inquiry & Hotel Reservation
(Donīt hesitate to contact us, we have the lowest rates for Bali and Lombok)

>>>> Special rates for: Indonesian Residents, Airline Staff, Honeymoon Couples on request.
These discounted hotel rates are provided by Bali Griyasari Tours & Travel and their partners.
The prices are per room/villa per night, based on 1 or 2 people occupying the room.
All rates quoted above are inbound and inclusive of Tax and Service Charge.
Note: Prices may change without prior notice. Please use the red link for the latest hotel descriptions and rates,
use our reservation form to get guaranteed price information for your travel dates.
All these discount rates are only applicable if booking was made through us, not at the hotel directly.

Assorted Tourist and Hotel Areas in Bali:
Kuta Legian Seminyak Tuban Ubud Sanur Nusa Dua Lovina Candi Dasa Jimbaran Other Areas
Here are the most recomendable hotels and villas in Bali and around, then Bali is the island of unforgettable holidays !